There are many reasons why you might decide to shop for glasses online, from lower prices to a larger selection. The benefits of Glasses.com are convenience, style and quality. While you might not find many inexpensive choices, you can get well-known, high quality brand name frames with a minimal amount of hassle. If you prefer, say, Ray-Ban specs over a less expensive off-brand pair, or would like to go with a well-known retailer, then this just might be the site for your next pair of glasses. Here's what you need to know to make that decision.
Glasses.com has a huge selection of brand name frames and as such, they can be a bit pricey. But you will still pay less than you would in a typical retail store. Their least expensive adult frames (just the frames without the lenses) are around $90, while their most expensive titanium frames are over $400. They do include lenses for free for all glasses over $160, however, which brings down the sticker shock of the more expensive pairs a little.
Another thing that might offset the cost of buying a pair of glasses at Glasses.com is that they will work with some vision insurance companies to pay for frames and prescription lenses. If you're lucky enough to have vision insurance, then that's an option to take into account
Glasses.com has an extensive selection of frames. Their men's and women's selections each feature over three hundred styles. Their children's selection is significantly smaller (a little over a dozen) and range in price from $80 to $100.
One of the reasons Glasses.com has a wide selection is that they are owned by Luxottica, the leading eyewear company in the world. Because of that, the site carries many of the most famous brand names, including Armani Exchange, Burberry, Ralph Lauren, Ray-Ban and Vogue. These are high quality frames in a variety of styles and materials. Looking for cat's eye Versace glasses with semi-rimless metal frames? You can find them here.
One of the concerns many people have when it comes to buying glasses online is how the frames they are considering will look on them. It's a common problem with ordering anything online, from shoes to clothes to jewelry. To deal with this, Glasses.com has a "Virtual Try-On" app for iPad and iPhone. You take a picture of your face from the front and from the sides, and the app lets you "try on" glasses that fit your dimensions. 
Now, obviously this is a rather limited option. Not everyone has an iPad or iPhone and, strangely enough, there's no Android option. (Maybe Glasses.com has some sort of standing agreement with Apple?) Also, while more and more people are shopping from their mobile devices nowadays, most people still use their computers/laptops. Glasses.com might do well to offer a desktop app in addition to the mobile apps.
For those who can't use the app, you can choose one of the models Glasses.com has available, and the frames will be shown on that model's face. The selection narrow, however, as all the models are pretty slim, which means that people with fuller faces don't really have adequate representation.
If you can't use the app and none of the models quite fit your face, then your best option is to eyeball it and try on the glasses when they arrive. Glasses.com has a 30-day return policy, meaning that for thirty days from the time you receive your glasses, you can return them for any reason. They'll even pay for shipping.
Glasses.com offers single vision prescription lenses, progressive bifocals, readers, and plain no-prescription glass. To order prescription lenses you will need your prescription (of course) as well as your pupillary distance, or PD. Your PD is the distance in millimeters between your pupils, and it affects where in the lenses the focal points should be. If there isn't a PD number on your prescription, you can either ask your doctor or measure it yourself or with the help of a friend. Glasses.com even has a special ruler you can print out at home.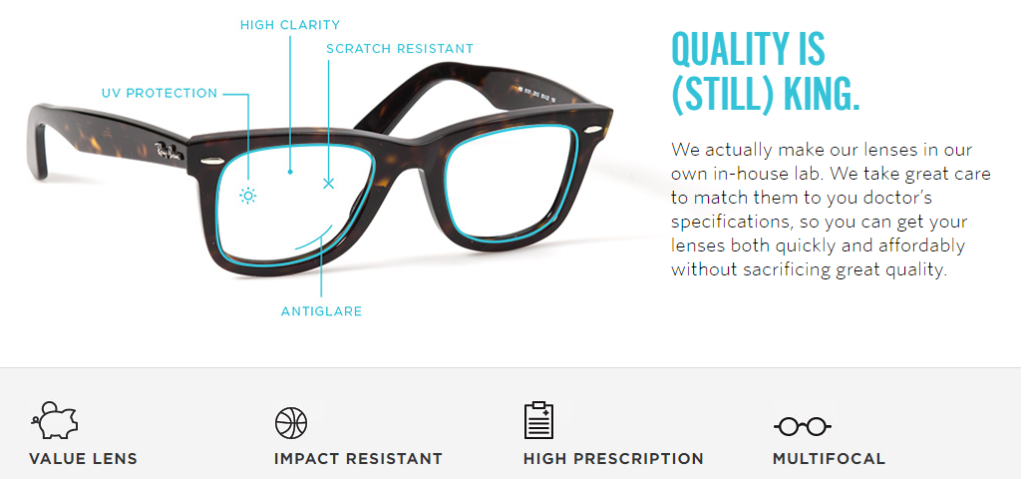 Glasses.com makes all of their lenses in-house, with the exception of a couple of their prescription sunglasses brands. This saves both time and money. They offer three lens materials: CR-39 Plus, their standard; polycarbonate, a tougher material that is useful for sports and children; and Ultra Lightweight High Index, useful for strong prescriptions that might otherwise require very thick lenses. All of Glasses.com's lenses come with a no-glare, scratch-resistant coating. If you wish, you can upgrade to a premium anti-glare treatment.
Ease of purchase and returns
The Glasses.com website is well designed and intuitive. It's easy to find the styles you're looking for, and easy to select the options you want. If you have trouble interpreting or entering your prescription, you can scan it and email it to them and they'll take care of it from there. If you opt for free shipping, you will receive your glasses within 5-7 business days. There are options for faster shipping for an additional cost.
Glasses.com says that trained opticians check every order before it is shipped. However, if something goes wrong with your glasses, you have a few options. As previously noted, there is a 30 day return policy, where you can return your glasses, for whatever reason, for free, by contacting Glasses.com either online or by phone. If something went wrong at the factory and the frames are defective, there's a one year frame warranty. And if you happen to break your frames within the first year, they will replace them at half price.
It is worth noting that many of the complaints about Glasses.com on review sites like the one for the Better Business Bureau have had to do with returns and refunds. However, people are more likely to complain when things go wrong than compliment when things go right, so a handful of bad experiences is not necessarily indicative of a larger problem.
In the end, the main question remains: what benefit does Glasses.com have over going to a store and buying glasses the old fashioned way? What it comes down to is convenience. If the Virtual Try-On works for you, or you're willing to be patient with sending back a pair of glasses if they don't work out, then at Glasses.com you might be able to find a pair of high quality frames that you love without the time or the hassle of a trip to a physical retail store. I've definitely bought things online that I could have gotten for the same (or even better!) price from a store, just because I didn't have the time (or the desire to change out of my pajamas). If bargain prices are your deciding factor, you might want to look elsewhere, but if you're willing to pay for quality and convenience, then give Glasses.com a try.