SmartBuyGlasses.com Review
When it comes to buying designer eyeglasses online, there are usually two kinds of sites: sites where you can find a wide selection of well-known brands (often for the higher prices that such high quality frames typically cost), and sites that feature rock-bottom bargains, saving you serious cash if you're okay with an off-brand pair of specs. SmartBuyGlasses.com is a hybrid of those two types of sites, bringing together the best of both worlds. If you're looking for designer prescription eyeglasses online from well-known brands, they've got you covered. And if you want to buy prescription glasses that won't break the bank, they've got that, too. Either way, you are likely to find a pair in their vast selection that satisfies both your sense of style and your desire for deals.
SmartBuyGlasses.com Review: Selection
SmartBuyGlasses.com has a truly staggering variety of styles from a wide number of brands. There are literally thousands of frames to choose from, so you're sure to find something that fits you to a T. If you're looking for big name brands, you can find many of them here, such as Oakley, Ray-Ban, Persol, and Versace. If brand name isn't as important to you, the SmartBuy Collection has over 700 low-cost frames to consider. They also have a comparably broad selection of sunglasses, and several brands of contact lenses. They even have colored contacts! Sadly, however, their "Halloween contacts" page is empty right now. Maybe come October they will be selling some spooky looks!

Buying designer eyeglasses online has one major drawback: you can't try them on. Or can you? Sure, if you buy a pair of jeans or a button-down shirt online, you have to select your size and cross your fingers that the waist won't be too tight, or the sleeves too short. But on SmartBuyGlasses.com, buying glasses doesn't have to be a "click and pray" endeavor. Instead, they offer a "virtual try-on" feature. On some other sites, this feature requires you to download a special app. On this site, however, you can use the virtual try-on right on the same page as the information of the glasses you're considering. As long as you have a web camera and Adobe Flash, you can see what the frames look like on your face. You can move your head around and the glasses will move with you, so you can see how they will look from every angle. (It's actually really, really cool, and even if you're not convinced by any of the other great things about this site, at very least check the virtual try-on for the fun of it.)
While the site claims to have thousands upon thousands of glasses available, some customers have found that they will order a pair and find out after they have paid that the frames they chose aren't in stock. Many of those complaints report that they wound up waiting for a long time for glasses that never came. With a high-volume retailer like SmartBuyGlasses.com, there's sure to be glitches, perhaps particularly when it comes to keeping items in stock, so some negative reviews are to be expected.  These instances are not the norm as many more positive reviews like these can be found.
SmartBuyGlasses.com Review: Price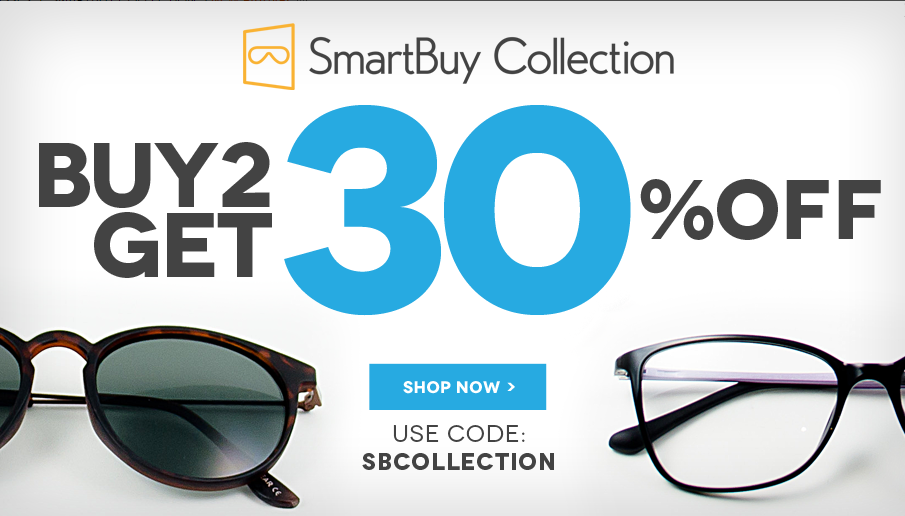 Since SmartBuyGlasses.com features both high quality brand name frames and rock-bottom store brand specs, the price range is substantial, from about $30 for glasses in the SmartBuy Collection to well over $2,000 for a pair of Bvlgari frames. However, even if you are looking for high-end brand name frames, SmartBuyGlasses.com will probably save you money. That's because all of their frames, including the most famous and most pricey, are sold at a deep discount. For instance, a pair of Burberry frames, that might otherwise set you back $267, on SmartBuyGlasses.com will cost you $199.95. Keep in mind, though, that this is for the frames only. With basic prescription lenses the cost goes up to $238.95. This isn't an issue for the SmartBuy Collection, where that $30 for the least expensive pair includes the lenses. They also have a best price guarantee: if you find a better price within 14 days of purchasing frames from SmartBuyGlasses.com, they will match it.
While some eyeglass sites will work with your insurance, SmartBuyGlasses.com will not, only providing an invoice of your purchase so that you can give it to your insurance company when requesting a rebate. They do, however, accept flexible spending account (FSA) or health savings account (HSA) debit cards.
SmartBuyGlasses.com Review: Lenses
SmartBuyGlasses.com offers five kinds of lenses: distance lenses for everyday use, reading lenses for close-up use, computer lenses that work at an intermediate distance (like the distance to a computer screen), progressive line-free multifocal lenses, and non-prescription plain glass. There is a range of lens thinness, with the thinner lenses more expensive than the thicker ones. All of the lenses include an anti-scratch, anit-reflective and UV protective coating. They also offer polarized lenses, tinted lenses, photochromatic lenses (lenses that darken in the sunlight), and gradient lenses (lenses that are dark at the top and gradually clearer toward the bottom).
SmartBuyGlasses.com Review: Ease of Purchase
First, let's talk about the SmartBuyGlasses.com website. It's got a lot of bells and whistles. In addition to the selection of products and the virtual try-on, there are some interesting features, including a gift guide, a page on how to find the perfect frames for the shape of your face, a "celebrity spotter" page that shows pictures of famous people wearing the glasses that the site sells, an "Optical Center" where you can find articles on glasses and eye care, and a blog. It's a lot of stuff. While all of these things are fairly interesting, I wish they had spent a little more time making the product sections a little more intuitive. For instance, the virtual try-on feature is clearly one of the things that distinguishes them from other glasses sites, but if you don't know they have it, you might not find it. Even if you do know it's there, it takes a little while to figure out how exactly one goes about using it.
So, to do the virtual try-on, first click the details icon of the glasses you are interested in. Then you will get more options listed below the glasses.  One of them will be "Virtual Try-On" but it will be in the off position. Just click the slider to the on position and it will load up the virtual try-on program.  Just follow the prompts from there.
Once you've decided on frames, however, the rest of the selection process is fairly streamlined. When you buy prescription glasses, often the most complicated part is understanding the prescription itself. SmartBuyGlasses.com makes this step as easy as possible. They have a form that closely resembles an optometrist prescription, a guide to understanding what all those numbers mean, and, worse comes to worst, you can scan your prescription, upload it, and they'll take it from there.
Once you've made your selection of frames and lenses and have entered your prescription, it's time to make and ship your glasses. While the FAQ says that most glasses ship within 24 hours, the reality is a little more complicated. Some lens options, such as tinting and polarization, will take extra time before shipping. And while shipping is free, the time it will take to get your glasses varies depending on what kind of glasses you've selected. Any glasses marked with a little airplane icon are "fast shipping," and should arrive the next day, Monday through Saturday. Everything else will take from five days to two weeks. And while they will ship to P.O. boxes, the faster shipping requires an address where you (or someone you designate) will be able to sign for the delivery. (All of this is of course dependent on whether they have the glasses you ordered in stock, which, as mentioned previously, there have been some issues with. If your glasses aren't in stock, then it could take much, much longer to actually get the glasses you order.)
SmartBuyGlasses.com Review: Returns and Warranty
So, let's say you've received your glasses but there's a problem. Maybe the prescription isn't quite right. Maybe the frames break. Maybe you just don't like the way they look. For cases like this, SmartBuyGlasses.com has a generous return and warranty policy. For the first 100 days they will refund your money or exchange your glasses for any reason. Beyond that, they have a 2 year warranty on prescription eyeglasses and a 3 month warranty on contact lenses.
If you're looking to buy designer prescription eyeglasses online but you don't want to pay an arm and a leg, SmartBuyGlasses.com just might be for you. Their extremely extensive selection ensures that you'll find something that pleases you both aesthetically and financially. Their virtual try-on system is also awesome. Give them a shot!