All too often it seems that when shopping for designer glasses online, you have to choose between your wallet and your desire for high quality, brand name specs that satisfy your aesthetics. At Eyeglasses.com, you don't need to make that choice. Their incredible selection means you can find brand name, stylish designer eyeglasses for prices that won't hit you right in the bank. In addition, the site is user friendly and a pleasure to use. On the down side, their return policy leaves much to be desired. If you're looking to buy designer prescription eyeglasses online, here's the good and the bad about Eyeglasses.com so you can decide if it's right for you.

The best thing, hands down, about Eyeglasses.com is that it has over 200,000 eyeglasses and sunglasses to choose from, from over 400 designers. That is huge, and notably much larger than the selection available at any brick-and-mortar glasses retail store. With such an extensive catalog, you are pretty much guaranteed to find the perfect frames for both your budget and your sense of style. They offer a wide variety of well-known brands, including Ann Taylor, Gucci, Nike, and Oakley, and a wide variety of styles and frame materials. Looking for full-rimmed titanium Oakley eyeglasses? They've got it. How about round nylon and plastic Ray Bans in matte bordo? They've got that, too.
Eyeglasses.com has options for every budget. If you're willing to pay any price for the very best brands made from the very best materials, then you'll find exactly what you're looking for on this site. Their most expensive pair of specs at the moment are Bottega Veneta sunglasses, priced at $1,882. If, on the other hand, you're fond of brand name designer glasses but you're looking for great deals, Eyeglasses.com has those, too. Many sites that offer bargain glasses have their own store brand, but on Eyeglasses.com you can find name brand deals. For example, you can get a pair of Ann Taylor frames for $30, or a pair of Europa EL-80 eyeglasses for $40.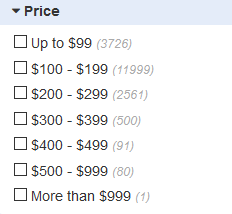 The above snapshot shows you the full range of not only prices but the shear quantity of glasses that are available at eyeglasses.com. That price range should easily fit any budget, including a large assortment of glasses under $99.
In addition to the reasonable prices, Eyeglasses.com will work with several vision insurance companies, including Aetna, Blue Cross Blue Shield, Eyemed, Humana and Spectera. They have instructions for each company they work with, including phone numbers to call and the exact information you will need to provide. Considering how complicated navigating insurance can be, this is a big plus.
To complement an impressive selection of frames, Eyeglasses.com has an equally impressive selection of lenses to choose from. Most online glasses retailers can handle single vision distance lenses and progressive (no line) bifocals. Eyeglasses.com can also handle lined bifocals and lined trifocals. In addition, they offer reading lenses and computer lenses (for medium distances, like from your eyes to your computer screen). Within these categories they offer several choices of lens material. The least expensive is the CR-39, a plastic lens that comes with an anti-glare coating. Those lenses in single vision distance will cost you $49. If you're willing to spend more, you can choose high index polycarbonate, ultra-high index, Trivex (suggested for rimless frames) and glass (which, according to the site, has better optics and better scratch resistance; however, glass lenses will take an extra 2 – 3 weeks for processing, and have no warranty).
Many other designer eyeglasses online retailers create all of their lenses in-house. At Eyeglasses.com, you have the option of choosing lenses from well-known lens companies such as Essilor and Zeiss. These lenses cost more, but come with a pedigree of quality that, depending on what you're looking for, might be worth the extra money.
Once you've selected the lenses, you're presented with a range of options for coating, tinting, and special services. All lenses come with a scratch-resistant coating for free. For an additional cost, you can choose from a couple UV-protection and anti-glare coatings. Tinting ranges from no-cost clear to more expensive sun sensitive lenses, tinted sunglasses, and polarized sunglasses. And to top it all off there's a range of special services to put just the right touch on your lenses. You can have the lenses on your rimless glasses polished or rolled, or have a mirror coating on your sunglasses. Or for an extra $9, you can rush your order, and Eyeglasses.com promises to complete your glasses as fast as possible without compromising on quality.
Another unique thing about Eyeglasses.com: if you already own frames that you love, but need new lenses because the old ones are scratched or the prescription has changed, you don't need to ditch your frames. Instead, you can mail them in and the folks at Eyeglasses.com will replace the old lenses with new lenses of your choice. This is something I have not seen from any other online glasses retailer, and it's a fantastic service. They do warn customers that sometimes, in the process of replacing lenses, frames may break. If that happens, they will either replace identical frames, or give 50% off of similar frames.
Ease of Purchase and Returns
Having a selection as vast as that on Eyeglasses.com is meaningless if you can't find the designer eyeglasses you're looking for among the literally hundreds of thousands of choices. Luckily, that's not a problem here. As a matter of fact, one of the best things about buying frames on Eyeglasses.com is that the site is easily navigable. Right on the front page they have a search form where you enter some basic information about what sorts of glasses you are looking for, and immediately you're shown several hundred frames that match those parameters. If you want to narrow your search, the side of the display page has several categories you can use to narrow your options, including shape, gender, material, brand, price, rim, eye size, even country of origin.
Once you've clicked on one of the eyeglass listings, you're taken to the product page, where all the information about those particular frames are laid out in an easy to read format. The most confusing thing about the listing is the size, but they have a size chart that goes over what each number means in detail.
Once you're sure these are the frames you want, you can either put just the frames in your shopping cart, or you can move on to selecting lens options. The site guides you through the process step by step, making it easy to choose exactly what you want without being bogged down by options that might not even be relevant to you. Once that's done, all that's left is your prescription. You can either enter the information on their online form, or you can email or fax the prescription to them, and they take it from there.
When buying glasses online, one pertinent question is how you can be sure you're getting glasses that fit you and look great. Most eyeglasses sites have a virtual try-on, where you can either see the glasses you're considering on your own face or on a model with your face shape. Eyeglasses.com does have a patented virtual try-on system, but, at the time of this review, it doesn't work with all of the frames, unfortunately. Hopefully the number of frames that work with the system will be expanded. They do, however, have an extensive guide to buying glasses, including discussion of what frames look best on certain face shapes. In addition, they offer the opportunity to buy up to four frames and send back the ones you don't want for a refund, as long as you purchase one of the frames. If not, you will have to pay for return shipping.
In general, this is how returns work on Eyeglasses.com: Refunds (full on glasses, half on lenses) are only granted if frames are returned within 30 days of the time when they were shipped. And they will pay for return shipping if they have made an error. Otherwise, you'll have to pay return shipping on the glasses you don't want. And if you return more than three pairs, you will have to pay a 20% restocking fee for each additional pair. The warranty available on frames is that from the manufacturer, not from the site, and they pledge that they will work with the manufacturer to help you if something goes wrong. They do guarantee that the lenses will be done correctly or they will redo them, within the 30 day period.
There are some really great things about Eyeglasses.com. Their selection is unmatched, their prices are reasonable, and their site guides you through the selection and buying process with ease. If you've looked everywhere else and you just can't find the right frames for your look or your budget, then, giving Eyeglasses.com a try is probably a very good move.